FAZUP, is a simple and effective protection for you and your children against the harmful EMF radiations emitted by your smart phone. FAZUP helps you get the most out of your phone without worrying about your health. It has a passive antenna that deals with mobile phone radiation, allowing for it to be integrated seamlessly into an extra-slim patch at the back of your mobile.
Duo pack (2 silver ink patch's)
Unique specific positioning

High protection from Phone Radiation
Scientific validation
Extra slim sticker avoids need for phone cover
Made in France and available on Singapore Airlines (KrisShop), Emirates Airlines (Duty Free) and Air France (in-flight)
We offer FREE SHIPPING on all products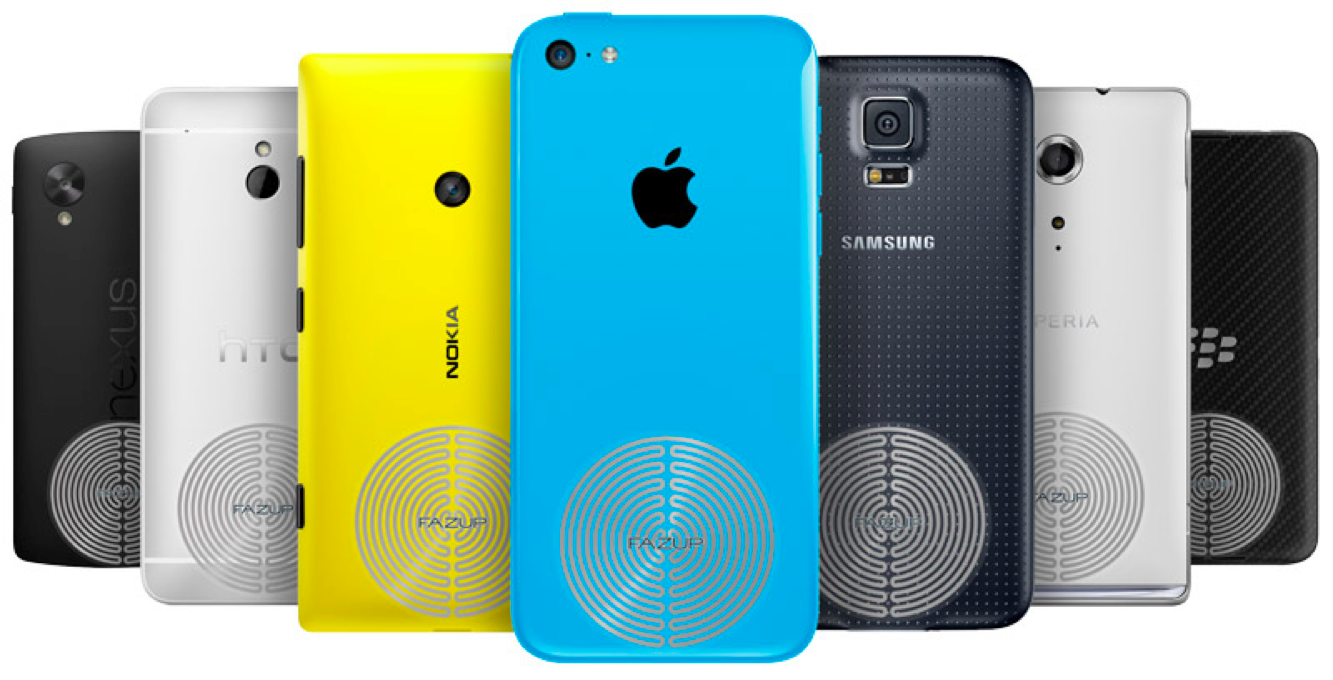 Who is it for?
FAZUP was designed to protect all mobile phone users, small and tall. Not sticking your phone to your ear or using an earphone is not always enough to protect you and those around you.
What is it for?
FAZUP protects you from the radiations of your mobile phone!
It is mostly useful when reception is low or bad, this happens when:
• you are moving around,
• enter closed spaces (vehicle, subway, train, lift, etc.),
• the closest network antenna is too far.
During these moments, the levels of radiation of your mobile phone can explode and reach up to 1000 times its normal rate. At that instant you become overexposed and your mobile phone transforms into your health's worst enemy.
FAZUP is an extra-slim patch containing a passive silver antenna which regulates mobile phone electromagnetic radiations without impairing the quality of the network reception – within the usage conditions recommended by the network operators.
The FAZUP patch enables to optimize the regulation of the radiation power of mobile phones and therefore greatly limits the quantity of electromagnetic radiations emitted towards users (up to 99% of EM radiations are absorbed by your brain, generally 80 to 90 % in average).
The FAZUP patch is applied precisely at the back of each compatible mobile phone models (as close as possible to the antennas) with the help of an exclusive and patented installation template.
From a practical point of view, your phone calls are not impaired. From a health point of view, the benefits are multiple: according to a large scale test of 1000 mobile phone users who have testified to the reduction of side effects leading to the following disorders and discomforts:
• Headaches (95%)
• Whistling ears (96%)
• Sleeping problems (98%)
• Overheating ears (100%)
• Tingling (91%)
• Epileptic seizures (100%)
FAZUP is recommended by more than 500 medical doctors and its effectiveness is proven by an independent laboratory (Emitech), accredited by Cofrac.
FAZUP is a worldwide patented technology, made in France.
FAZUP has an unlimited life cycle under a protective casing.
Features Summary
 • Does not impair the quality of your phone calls
• Regulates the power of your mobile phone's electromagnetic radiations
• Removes or reduces side effects: disorders and feelings of discomfort (see list)
• Passive silver antenna integrated into an extra-slim patch
• Effectiveness proven by the DAS (or SAR) : Reduction of DAS up to 99%
• Recommended by medical doctors
• Effectiveness proven by an independent and accredited laboratory
• Product tested and approved by 1000 mobile phone users
• Compatible with standard worldwide frequency bands (2G / 3G / 4G)
• Worldwide patented technology
• Made in France
How does it work?
Mobile phones emit much more electromagnetic radiations than necessary when in function, especially when establishing communication, moving around or when the network connection is not so great - the standards being old and the network coverage having been vastly improved. Furthermore, an important quantity of this emitted energy by the device is useless and lost because it is absorbed by your head and your body.
Thus, better regulating and reducing the radiation power of your mobile phone allows you to considerably reduce the level of absorption (DAS or SAR) without impacting the network reception (or in a marginal way in rare cases and with mobile phones that have low network sensitivity).
FAZUP possesses a protected technology by an international patent, is made in France and assembled at ESAT by disabled workers. The effectiveness of the FAZUP technology in reducing electromagnetic radiation is scientifically proven on the only international norm of reference, the DAS - it's the "Débit d'Absorption Spécifique" or SAR: Specific Absorption Rate. This norm quantifies the maximum energy absorbed by the head and the body of mobile phone users during communications. The DAS or SAR is a placing on the market norm that mobile phone manufacturers have to meet.
All the tests were conducted by EMITECH, accredited by French laboratory COFRAC (Comity of French Accreditation) for DAS measurements. Information downloadable at www.fazup.com (or in full by clicking here).
FAZUP has conducted an independent test amongst 1000 mobile phone users - usage of more than 30 min/day in association to statements of side effects leading to disorders or discomforts.
The results are impressive as well as worrying and attest of the benefits of FAZUP on wellbeing and quality of life - 85% of the respondents declare being satisfied and predominantly the disappearance or strong reduction of side effects that lead to disorders and discomforts like headaches, whistling ears, sleeping problems, epilepsy, overheating ears, etc.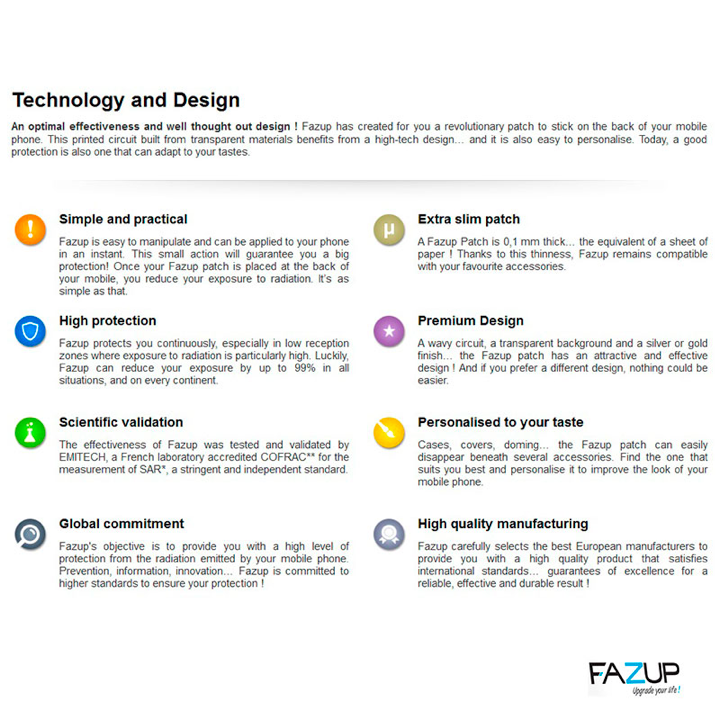 How to use?
FAZUP is compatible with most popular smartphones on the market: more than 80 compatible models, list at www.fazup.com.
FAZUP is supplied in its package box that contains a universal positioning system, exclusive and patented, enabling users to position the patch with millimetre accuracy on compatible mobile phones, therefore allowing each user to benefit from the effectiveness validated by a laboratory.
To know how to position your FAZUP, watch the following video (French version) Video : How to position the Fazup.
 Downloads
FAZUP Product Sheet FAZUP presentation Download (977.23k)
FAZUP Position Guide How to place FAZUP Download (631.98k)
FAZUP User Guide Read before sticking FAZUP Download (617.17k)
FAZUP Worrying Research Download (1.21M) 
Click here for downloadable product sheet in PDF
Legal Notice
FAZUP does not cancel the effects of mobile phone electromagnetic radiations. It reduces them considerably and therefore limits their negative impact on mobile phone users. This product is not suitable for 100% electro-sensitive individuals.
In regards to the current events involving radioactive anti-radiation products (patches, pendants, etc.) which are considered health hazards, FAZUP certifies that their products are totally passive, manufactured in France, and that they do not contain any dangerous substances falling under the RoHS Directive (2011 / 65EU), both in the materials used and in the production processes.